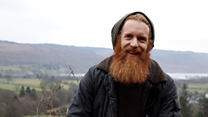 Video
Extreme adventurer Sean Conway answers our quickfire questions
Extreme adventurer Sean Conway has been all around round the world, but why does he choose to live in a Lake District village?
Originally from Cheltenham, in May he broke the world record for the fastest crossing of Europe by bicycle.
In 2015, he became the first person to complete a run, a cycle and a swim each the length of the UK and he also completed a 4,200-mile "ultra-triathlon" in 2016, circumnavigating the coast of mainland Britain by a mix of bike, swimming and running.
We went to Coniston to talk favourite walks, weirdest moments and why he has a big ginger beard...
Go to next video: Life of daredevil 'birdman' remembered