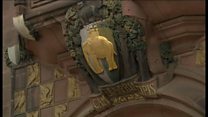 Video
Why are there so many elephants in Coventry?
All around Coventry symbols of elephants can be spotted on crests, windows and pillars.
Coventry sports centre is even known as The Elephant due to its colour and shape.
Frank Grunfield used Your Questions to ask: "What are all the elephants doing in Coventry?"
The enormous animal appears on the city's coat of arms and is thought to signify the city's strength in medieval times.
Midlands Today reporter Joan Cummins explored some of the city's elephants with local historian Pete Walters.
He believes there are 300 elephants and the city should make more of them.
A project called Walking with Elephants is planned as part of Coventry's bid for City of Culture 2021.