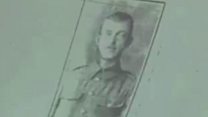 Video
WW1 soldier who fell at Somme honoured at home 100 years later
A World War One soldier killed in France has been honoured at home 100 years later after a relative heard his name by chance on radio.
BBC Coventry and Warwickshire was broadcasting from French battlefields when Joseph Cleaver's name was mentioned in an interview with a historian describing some of the Coventry soldiers who died in the Battle of the Somme.
Joseph, who served with the 1st/7th Royal Warwickshire Regiment, was 31 when he was killed on the battle's first day. His body was never found.
Robert Bristow, a cousin, heard the broadcast and phoned in to the radio show, after which the idea to commemorate Joseph in Coventry took root.
Go to next video: The faces of unknown WW1 soldiers