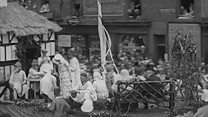 Video
Your Questions: Coventry 'in its pomp'
James Kirkham-Wiley used Your Questions to ask for "historic pictures" of "Coventry in its pomp".
Footage from across the decades highlights a proud history, showing that there have been worse fates than literally being sent to Coventry - the origin of the metaphorical phrase Your Questions addressed here.
Mr Kirkham-Wiley, who said he got married in St Mary's Guildhall, a "beautiful" 14th Century hall, stated: "Whenever I have mentioned to people not from Coventry that I was married there the general perception is negative.
"It seems a shame to me that post world war the once significant and important city of Coventry seems to have slipped out of the British psyche."
Images: Fox Photos/Stringer, British Pathé, Peter King/Fox Photos/Getty Images, John Franks/Stringer and Frank Tewkesbury/Stringer.