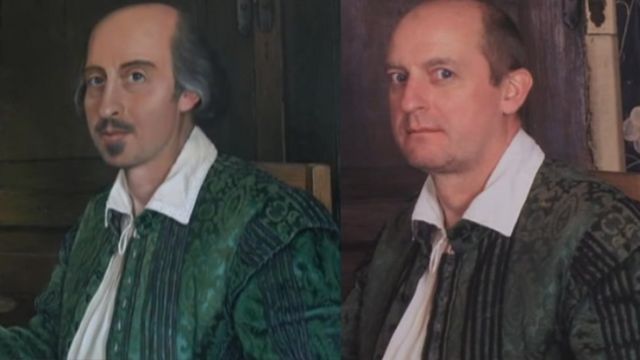 Video
Shakespeare 'body double' painting ready for public display
A new portrait of William Shakespeare, completed after the artist's friend stood in as a body double, will go on show to the public from 20 April.
Artist Geoff Tristram, from the Black Country, noticed his friend Simon Millichip bore something of a resemblance to the Bard so asked him to act as stand-in.
Mr Millichip went to the Shakespeare birthplace, in Stratford-upon-Avon, dressed in costume and then posed for photos. The images form the basis for the portrait, commissioned by councils in Stratford to mark the 400th anniversary of Shakespeare's death, in April.
"This was the most special painting of my career and I didn't want to blow it," said Mr Tristram, who learned the correct style of Elizabethan writing so he could accurately depict Shakespeare writing a soliloquy from Hamlet.
The painting will go on public display at Stratford Town Hall.
Go to next video: Shakespeare's family roots traced to town