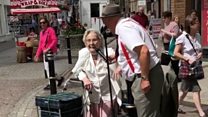 Video
Crowd 'in tears' at pensioner's duet with busker
An impromptu duet between a pensioner and a busker moved onlookers to tears and has prompted a strong reaction on social media.
Mia Fannin filmed 88-year-old Enid Bellamy singing Louis Armstrong's Wonderful World with busker Andy Marshall in Truro, Cornwall on Wednesday.
Mr Marshall said Enid had joined in with his songs in the past, but he had not seen her for six months.
"There's was a huge gathering around us," he said, "I was delighted they were filming Enid, there were people drying their eyes in the audience".
"She loves singing, she used to sing when she was young. It makes her really happy," Mr Marshall added.
The video has attracted dozens of positive responses on Facebook.
Jackie Hurst wrote "This little video has made my Sunday morning!", while Belinda Burgiss Hall commented "Aww. Love it. The power of a fabulous song bringing people together."
Shona Davey said "Just cried watching this", and Jane Letcher added "Love that man and the lady brought a tear to my eye".
Go to next video: Meet Doorkins the cathedral cat