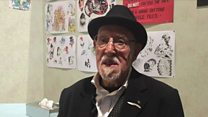 Video
Doc Price is 85 and still working as a tattoo artist
The man thought to be the oldest working tattoo artist in the world has been talking about his time in the industry.
Doc Price, 85, got his first tattoo - saying 'Mother' - in 1962, and started working two years later.
Doc said his first clients were prostitutes: "Ladies of the night we used to call them, pavement princesses."
He says the strangest request he's had was for a man's will to be tattooed on his back.
He still works from a studio in Plymouth and has been in Cornwall visiting an exhibition charting the history of British tattooing at the National Maritime Museum, Falmouth.
The curator of the exhibition says he believes Doc is the world's oldest working tattooist.