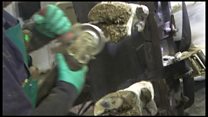 Video
Giving a cow a pedicure: 'No different from cutting toenails'
Armed with an angle grinder, Charlie Davey travels across Cornwall giving cows pedicures.
He uses his specially-designed contraption to pick the animals up and turn them to a 70 degree angle so he can access their feet.
The cows' hooves are trimmed and treated to stop infection and any discomfort.
Mr Davey started his unique career at the age of 55 and said it can be a "wet, mucky, smelly job" but is "no different from cutting toenails or thumbnails".
This bovine buff and polish can be seen on Inside Out South West on BBC One on Monday 13 February at 19:30 BST and on the iPlayer for 30 days thereafter.