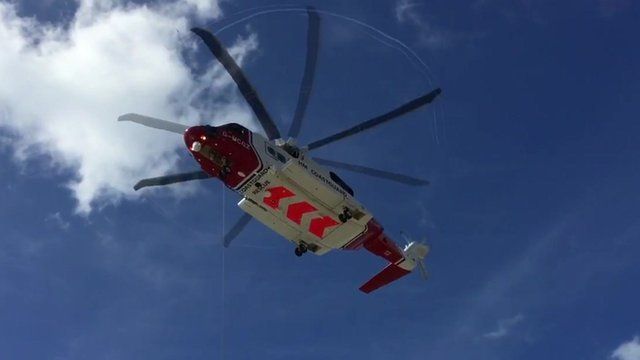 Video
Chapel Porth paraglider blown onto 150ft cliff
A paraglider was airlifted to safety after a freak gust sent him crashing into 150ft (45m) cliffs.
Coastguards said the man was "lucky" to escape without serious injures after being slammed into the cliff at Chapel Porth in Cornwall on Saturday.
Rescuer Rob Farr packed away the paraglider's equipment fearing that it could entangle the helicopter rotor blades before the man was airlifted to the top of the cliff.
Colin Smith, maritime operations officer, said: "This rescue was tricky. Although thankfully unhurt, our trapped paraglider could go neither up nor down and his fabric wing constituted an extra hazard, especially in the downdraft from the helicopter."
Helicopter winch man Julian Williams added: "This was a great bit of teamwork. Because of the cliff and the precarious nature of the loose rocks, the coastguard rescue team couldn't bring the paraglider up easily.
"We were eventually able to winch him off the cliff safely."