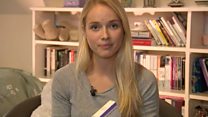 Video
'Injecting my contraception is empowering'
A medical student has said she finds it "empowering" to be able to inject herself with contraceptives at home, rather than go to a clinic or rely on the pill.
Caitlin Pley, who lives in Cambridge, has been given a year's supply of "Sayana Press" needles, and was taught how to use them.
Clinics say it offers choice to women and frees-up appointments, but there are concerns it could mean fewer opportunities for doctors to see vulnerable patients.
Doctors have warned access to contraceptives was at a "crossroads", with services being cut across England.
Go to next video: Why women are struggling to get coils and implants