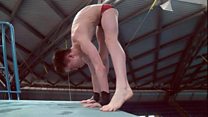 Video
Owen Harrison: Diver takes 240-mile round trip to train
Dedicated diver Owen Harrison has been taking his training to the next level, making a 240-mile (390km) round trip six times a week on the search for gold medals.
The 15-year-old, from Huntingdon in Cambridgeshire, travels from his home to a pool in Sheffield every day except Sunday.
He is in his final year of GCSEs, but when he is not cramming for exams, he is diving for medals.
Last year he won a silver medal at the European Junior Championships and grabbed a team gold at the World Juniors.
His next target is the 2024 Olympics when he will be 23.
"Sometimes the travelling is more [time] than the actual training itself," said Harrison.
"But I just love the club I go to and the sport so much.
"I just think it's worth it."