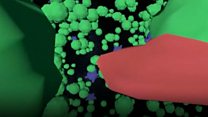 Video
Cancer Research UK: Cambridge scientists awarded £20m grant
Scientists in Cambridge have been awarded two of the biggest funding grants ever given by Cancer Research UK.
The charity is investing £40m over the next five years into two research projects, with £20m going towards creating 3D versions of breast tumours which will then be studied using virtual reality.
It is the first time the technology has been used to virtually build and study real-life tumours, scientists said.
Computer programmes can only hold so much data, but virtual reality allows a patient's cells to be studied in greater numbers.
Cancer remains one of the biggest killers in the UK but researchers hope this work could improve survival rates.