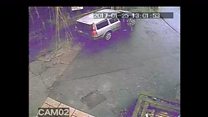 Video
'Brazen' car thief drives away with baby
A car thief got more than he bargained for when he stole a car only to find a baby strapped into the back seat.
The baby's mother had gone into a shop on London Road in Kimbolton, Cambridgeshire, at 15:30 GMT on Wednesday when the car was taken.
She saw the silver Volvo being driven away and ran after it, shouting for it to stop.
The thief abandoned the car 100 yards (91m) down London Road and the 10-month-old was recovered safe and well.
Cambridgeshire Police believe the thief had been travelling as a passenger in a blue Peugeot which stopped nearby.
PC Carl Harris said: "The car was stolen in broad daylight in a matter of seconds by a brazen thief who got more than he bargained for.
"Fortunately the child was unharmed but this was a deeply disturbing incident which could have had terrible repercussions."