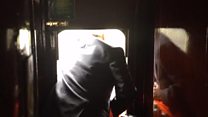 Video
Flying Scotsman: Guard shouts at trespassers as train halted near St Neots
A guard on the Flying Scotsman shouted at trespassers on the track after the steam train was forced to a "shuddering stop" in Cambridgeshire.
The locomotive was halted near St Neots about 09:30 as it made its journey from London King's Cross to York, where it will go on display at the National Railway Museum.
British Transport Police said it had received reports of about 60 people alongside the East Coast Mainline, halting the train's journey by about 15 minutes.
Rail Magazine's editor Nigel Harris, who is on the train, said it was forced to carry out a "big brake" before coming to a "shuddering stop".
No-one was arrested.