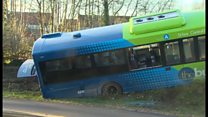 Video
Cambridgeshire Guided Busway crash: Investigation under way
Six people were injured when a guided bus crashed in Cambridge.
The vehicle left the Guided Busway, near Foster Road, at about 14:00 GMT on Monday when it was travelling between Addenbrooke's Hospital and Trumpington.
Cambridgeshire County Council, which is responsible for the network, said it was investigating and had introduced a 10mph temporary speed limit at the section where the crash happened.
The police said five people had minor injuries and one person obtained serious, but not life-threatening, injuries.
A force spokeswoman said officers had attended the scene, but the Health and Safety Executive would be taking over the investigation.