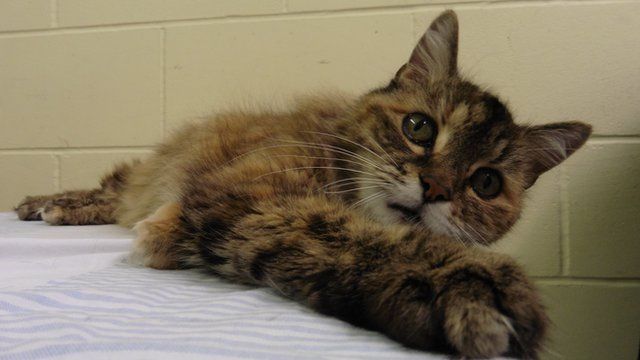 Video
Cambridge cat Bluey 'shunned for her loud purr' finds new home
A homeless cat shunned because it has "possibly the loudest purr in the world" has found a new home after the rescue centre released a film of it.
Bluey, 12, came to Cambridge's Blue Cross on 9 March after her elderly owner was hospitalised.
Her constant purring which "sounds like a tractor" was putting off potential owners, staff said.
Centre manger Alan Maskell said: "A man who came to see her on Saturday just said, 'Oh no, that's much too loud'."
A member of staff who used a phone app to measure Bluey's purr said it registered at 93dB, which, if accurate, is about four times louder than a typical purr.
A woman who saw the charity's film was not put off by the noise and adopted the cat on Wednesday. Bluey will go to her new home on Friday.
Go to next video: Cat saves boy from dog attack