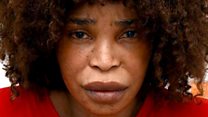 Video
Acid trial police interview: 'He wanted me to burn'
A woman who was cleared of murdering her former partner in an acid attack which led him to end his life, told police she wanted to "help him" after he said "it hurts, it hurts".
Berlinah Wallace, 48, has been found guilty at Bristol Crown Court of throwing a corrosive substance with intent at Dutch engineer Mark van Dongen in Bristol in 2015.
He was paralysed from the neck down and had lost a leg, ear and eye. Fifteen months later he ended his life by euthanasia in a Belgian hospital.
In police interviews after her arrest, she claimed Mr van Dongen had put the acid in a glass for her to drink because "he wanted me to burn my insides".