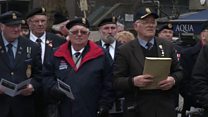 Video
Wartime-missing Bristol teenage sailors honoured on plaque
Teenage sailors lost at sea in World War One and World War Two, have been remembered at a ceremony in Bristol.
Fifteen Bristol boys, aged 16 and under, have had their names added to the Merchant Navy Association's memorial at Welshback
The boys served as cabin boys, deck boys and in convoys bringing supplies back to Britain during the second world war and died as the result of attacks by German submarines and mines.
Ted Williams from the Bristol and District Merchant Navy Association said: "When we became aware of the names of these young lads we thought it only fitting that we should dedicate a plaque on our memorial so the sacrifice they made at such a young age is never forgotten.
"They lost their lives - doing their job - and this is now being publicly recognised."
You can see more on BBC Inside Out West at 19:30 GMT on BBC One on Monday 6 February and afterwards on the BBC iPlayer.