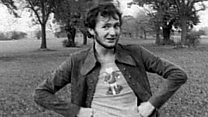 Video
Kenny Everett film clip discovered in BBC archives
A film clip of the late DJ Kenny Everett, which is believed to have never been shown on TV, has been unearthed.
The 45 second clip from the 1971 BBC West show Claim to Fame has been discovered in the BBC Bristol archive during research for a programme about how BBC Radio Bristol managed to sign up the maverick entertainer after he was sacked by Radio One.
It is believed the clip survived because it was cut from the finished show due to it being too "zany" and it did not fit in with the normally scripted links.
BBC Inside Out West on how Bristol saved Kenny Everett's career can be seen at 19:30 GMT on Monday 23 January and afterwards on the BBC iPlayer.
Go to next video: Kenny Everett on Radio Victory