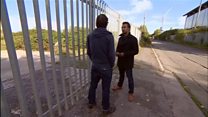 Video
Amazon agency delivery driver 'went to toilet in back of van'
An undercover reporter who worked in Bristol for an agency that delivers parcels for Amazon said one driver told him he went to the toilet in the back of his van.
Inside Out has heard from a supervisor that left Oxford-based AHC last year that drivers are under such pressure to finish their rounds quickly that one even fell asleep at the wheel.
AHC said it took the safety and welfare of its drivers seriously and gives them the "freedom and flexibility" to choose when they work.
Amazon said it was "committed" to ensuring drivers drive safely and legally and that as independent contractors of the agencies they can drive at their own pace and choose when they take breaks.
You can read more about this story here or watch a special Inside Out on BBC One from 7.30pm tonight.