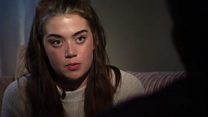 Video
Amazon agency driver 'fell asleep at wheel'
A former supervisor at a Bristol agency that delivers parcels for Amazon has spoken of the time a driver fell asleep at the wheel of a van.
Cody Cooper said the driver had been told to stay on the road and complete his route. Ms Cooper, who left the agency AHC a year ago, said she argued as she was worried he "could kill someone".
Amazon said it was "committed" to ensuring drivers drive safely, and legally, and do not spend more than 10 hours driving a day. The agency supplying drivers said it takes road safety and the welfare of its drivers seriously and it had taken steps to improve its ways of working.
You can read more about this story here or watch a special Inside Out on BBC One from 7.30pm tonight.