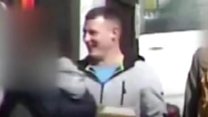 Video
Gang which dealt £350K worth of drugs from Bristol takeaway is jailed
Eighteen gang members who used a takeaway café to serve up bacon and eggs alongside kilos of cocaine have been jailed.
Avon and Somerset Police said the crime group had supplied drugs with a street value of more than £350,000 and used the Breakfast Box in Bedminster to store, prepare and sell it.
Det Insp Jim Taylor said it had been a "complex" but "well executed operation".
He said: "Once again we have struck at the very heart of a Bristol-based crime group operation, thwarting their efforts to flood the streets of Avon and Somerset with Class A drugs and preying on those who are addicted to and unable to resist the lure of drugs."