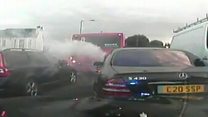 Video
Banned death driver jailed after police car chase
A driver who killed his friend in a crash has been jailed for a second time after leading police on a high speed car chase.
Zahoor Hussain, 29, from Almondsbury, near Bristol, was jailed in 2010 after the crash which killed Zoe Smith, 17, from Speedwell.
Despite still being banned from the roads, Hussain raced a Mercedes C430 at 80mph along quiet residential streets before crashing into a bus and a van.
The video shows police trailing him for 15 minutes on July 22, 2016, before they are able to apprehend him and drag him from the vehicle.
He was jailed for 18 months at Bristol Crown Court after admitting dangerous driving, failing to stop for police and driving while disqualified and without insurance.