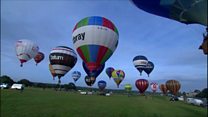 Video
Balloons drift over Bristol in early morning display
People living in Bristol have been treated to a preview of the city's international balloon fiesta.
More than two dozen colourful balloons took off from Bristol Downs just after 06:30 BST with most landing to the east of the city some 45 minutes later.
The full event takes place at Ashton Court starting next Thursday.
Meanwhile organisers have been busy making new traffic management plans in an attempt to avoid the jams that happened in 2015.
Last year an unprecedented number of visitors meant routes around Ashton Court were blocked and the gates had to be closed.
Those behind the fiesta say this year all parking spaces should to be booked in advance and shuttle-bus services will be provided.