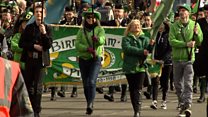 Video
Birmingham Irish I am: 'St Patrick's Day - best day of my life'
Thousands of Irish people came to work in Birmingham following World War Two.
Many worked in construction, on the buses or in hospitals.
Life was not always easy, but a huge community developed and the Irish became a significant part of Birmingham life.
Despite consequences for the community in the aftermath of the 1974 Pub Bombings, Birmingham's Irish have continued to play a major role in the city's story, up to the present day.
Birmingham-born musician Angela Moran tells the story of the Irish community in the city through the memories of local people and rare archive footage.
Birmingham Irish I Am is part of a new series, A Very British History. It will be shown on BBC Four at 21:00 GMT on 12 February, and will also be available on iPlayer.
Go to next video: Thousands at NI St Patrick's Day parades