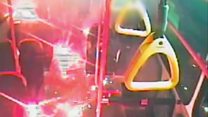 Video
New by-laws after firework on bus
This CCTV shows a firework being thrown at passengers on a bus.
It also shows young passengers fighting while travelling on a bus in the West Midlands.
New powers which give enforcement officers greater powers to deal with abusive passengers and vandals have been approved.
The West Midlands is thought to be the first area of the UK to introduce extra by-laws which mean officers can issue more on the spot fines for a greater range of offences such as smoking, vandalising property and threatening or offensive behaviour.
The laws will apply to buses, bus shelters and stations.
Go to next video: Firefighters attacked with fireworks