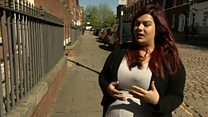 Video
Mental health a 'taboo' for many Sikhs
A woman has spoken out about her mental health problems after a survey of more than 2,000 British Sikhs suggested more work was needed to highlight and tackle the issue.
The sixth annual British Sikh Report says 80% of Sikh women and 68% of Sikh men know someone who has experienced poor mental health in the past year.
Neelam Heera, a 29-year-old lawyer in Wolverhampton, has struggled with mental health issues.
She said reproductive health problems affected her self-esteem and led to her self-harming.
Jasvir Singh, chair of the British Sikh Report, said: "Mental health has been a taboo subject for Sikhs for many years.
"This data helps us understand what the challenges are, and with three quarters of Sikhs knowing someone with poor mental health, it's clear that this is something that affects all of us."
If you, or someone you know, have been affected by mental health issues, click here to see how you might be able to get some help