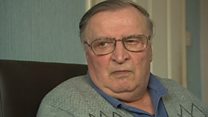 Video
Call for Army veteran to get UK passport
Calls have been made in Parliament for an Army veteran who has lived in the UK for more than 60 years to be granted a British passport.
Tadeusz Polanski, 74, of Birmingham, arrived in the UK from Rhodesia, the country of his birth, in 1951.
In the 1960s he served in the Grenadier Guards for seven years. But in 1996 his UK passport application was refused.
The Windrush cases - which include anyone who moved to the UK from a Commonwealth country before 1973 - are in the UK legally but some have been threatened with deportation if they did not have paperwork to prove it. Zimbabwe (formerly Rhodesia) withdrew from the Commonwealth in 2003.