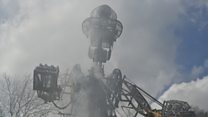 Video
Man Engine draws big crowds to Ironbridge Gorge Museum
A giant puppet drew large crowds to the Ironbridge Gorge Museum in Shropshire.
Man Engine is the largest mechanical puppet ever constructed in Britain and is on a tour of England and Wales.
He is a 36ft-tall (11m) miner which was made to mark the 10th anniversary of the Cornwall and West Devon Mining Landscape being added to the Unesco list of World Heritage Sites.
It was named after a mechanism used to move miners up and down to working levels, and travelled 130 miles along Cornwall's historical mining coast when it was launched in 2016.
As part of a resurrection tour, Man Engine has already visited south Wales, and will be heading to Yorkshire and Durham in June.
Video journalist: John Bray