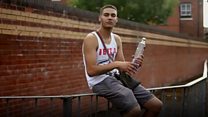 Video
Awards in memory of stabbed rapper Joshua Ribera
The mother of a promising rapper who was stabbed to death in 2013 has organised an awards ceremony for children who are not in mainstream education.
Joshua Ribera was killed in Birmingham in 2013 at an event arranged in memory of a friend who was also died in a knife attack.
Mr Ribera's mother Alison Cope is hosting an event at the Birmingham Conference and Events centre for young people who are in difficult circumstances and who are working hard to turn their lives around.
She said those who got excluded often could not celebrate their achievements like mainstream pupils.