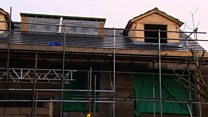 Video
Wolverhampton builder 'left house with leaning wall and leaks'
A couple have described their despair at losing tens of thousands of pounds after a builder left their home unfit to live in.
The couple, from Solihull, said they paid more than £80,000 to Rohail Aslam, who goes by the name of Billy. He was meant to refurbish and extend their house.
Instead, the couple claim the builder left them with a leaking roof and dangerous walls.
The BBC has spoken to other customers of Mr Aslam, from Wolverhampton, who also claim they have paid for work that was not done.
When confronted by BBC reporter Jonathan Gibson, Mr Aslam disputed the figures but refused to answer further questions.
The full story can be seen on Inside Out West Midlands on 29 January on BBC One at 19:30 GMT and afterwards on iPlayer.