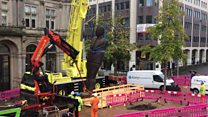 Video
Birmingham's Antony Gormley Iron: Man statue removed
A Birmingham landmark has been lifted out of its home to make way for new tram line.
Antony Gormley's Iron: Man statue was eased out of the ground by two cranes in Victoria Square on Tuesday.
The statue, which stood outside Birmingham Council House, needs to be moved to another location in the square because it stands in the path of a Midland Metro extension.
It was a gift to the city by the Trustee Savings Bank, in March 1993.
Cast at Firth Rixon Castings in Willenhall, it represents the traditional skills of Birmingham and the Black Country.
Iron: Man will return to a nearby location by the end of next year.