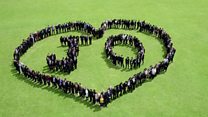 Video
Jo Cox: Drone camera captures tribute to murdered MP
More than 200 school pupils have marked the start of a weekend of celebrations in memory of murdered MP Jo Cox by forming an outline of a giant heart.
The teenagers, from two Birmingham schools, were joined by their local MP for the event that was set up by charity The Challenge as part of nationwide events organised by the Jo Cox Foundation.
Jess Phillips, Labour member for Birmingham Yardley, said: "One of the wonderful things about my friend Jo Cox was her willingness to speak up.
"Today she would have thoroughly approved of pupils at Cockshut Hill and Ninestiles who are speaking up about the needless divides between us."