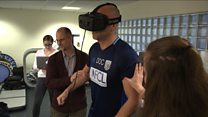 Video
Virtual reality tests on footballers could spot brain injury
A device called an Oculus Rift could help prevent footballers suffering long-term brain damage by detecting concussion at the side of a pitch.
Trials are now taking place with the headset, which uses virtual reality technology to judge a player's ability to balance while following instructions.
Dr Michael Grey, who has been testing the device at the University of Birmingham and the University of East Anglia, tried it out on Dr Mark Gillett, director of performance at West Bromwich Albion Football Club.
You can see this story in full on BBC Inside Out West Midlands at 19:30 GMT on BBC One on Monday 20 March or via iPlayer afterwards.
Go to next video: Striker's daughter quits TV interview