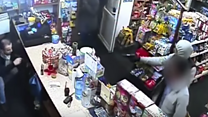 Video
Shopkeeper fights off gunman in Walsall
A man armed with a handgun failed to intimidate the shopkeeper he threatened - a former Kurdish special forces soldier.
With the weapon pointing at him, and another man bundled into the premises at gunpoint, shopkeeper Shikha Mahsum grabbed animal repellent spray and squirted it in the gunman's eyes, forcing him to flee.
CCTV released on Thursday shows the events unfolding at Kobani Stores in West Bromwich Street, Walsall, just before midnight on 9 January - after which Mr Mahsum, 39, said the gunman had picked on "100% the wrong shop".
Police, who are searching for the gunman and two suspected accomplices at the door, have commended his bravery.
This video has no sound.