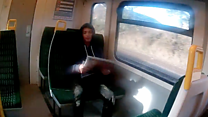 Video
Ticket inspector attack man jailed after train assault filmed
A fare dodger who attacked a rail ticket inspector has been jailed for 15 weeks.
British Transport Police has released video of Elliot Nash ranting at a female train worker before kicking and lashing out at her colleague on a London Midland service.
The 32-year-old, from Northfield, Birmingham, verbally abused three members of rail staff and threatened to knock them out while travelling between Bournville and Northfield in November.
Footage from one ticket officer's body-worn camera shows Nash repeatedly swearing and taking a running kick at a staff member in the train's aisle.
Police identified Nash from the footage, arresting him at his home just two hours later.
He was later charged with assault and two public order offences. He pleaded guilty at Birmingham Magistrates' Court.
PC Nicola Mallaber said: "As the footage shows, his attitude is completely unacceptable and there was absolutely no need for this to have escalated into violence - all for the sake of a £2.20 fare."
Go to next video: Solicitor racially abuses mother and son