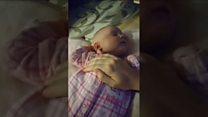 Video
Facebook trolls target mum of baby with cystic fibrosis
A mother who posted a video on Facebook of her 15-week-old baby undergoing physiotherapy for cystic fibrosis says she was accused of being a "child beater".
Sam Carrier, from Dudley, West Midlands, filmed herself banging her daughter Daisy Evans on her chest and back to get mucus off the lungs.
She said she was shown how to perform the action by hospital staff and had shared the video to raise awareness of the condition.
Ms Carrier said she had received many supportive comments and said of her online abusers: "They don't really care."
A spokeswoman for the Cystic Fibrosis Trust said: "Chest clapping is a form of physiotherapy for young children with cystic fibrosis.
"It helps clear the sticky-mucus which builds up in the lungs as a result of the condition."