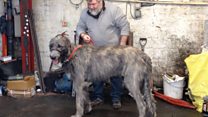 Video
Scrapyard scales in Dudley let big dog be 'blood hound'
When Ahaon the Irish Wolfhound visits the vet for a check-up, he goes via the local scrapyard to be weighed.
The 16-month-old dog - who is 74kg (11.6 stone) - is on standby as a blood donor for Blacks Vets in Dudley, West Midlands, but the scales there are too small for Ahaon's frame.
Vet Brian Hogan says there is a desperate need for dog blood donors, with large pooches perfect as "they won't miss a pint of blood".
Ahaon and his mother Ealga, who recently had a litter of puppies, live with their owners Paddy and Gill Grice in nearby Stourbridge where there is, Paddy says, a squabble for sofa space.
Go to next video: 'Desperate' plea for dog blood donors