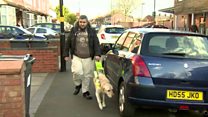 Video
Blind Birmingham man with dog fear wins volunteer award
A blind Birmingham man who had a fear of dogs has won a volunteering award from the Guide Dogs charity.
Mohammed Rashid helps to raise the profile of guide dogs within Muslim communities across the city.
Mr Rashid's local mosque has built a kennel for his guide dog to sit in while he attends prayers.
He has kept the pet for three years now, and said Solo had eradicated his fear of dogs.
"Solo has changed my life in many different ways. He has given me back my eyes," he said.
Solo and his owner visit local schools as a Guide Dogs ambassador, raising the profile of the charity's work.
"He makes my life much easier because he will seize every opportunity that he can to speak to local schools, local shopkeepers, taxi drivers and the local mosque," said Sue Bushell, from Guide Dogs in Birmingham.