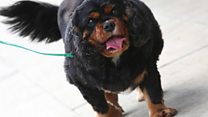 Video
Dog becomes champion slimmer thanks to diet and swim sessions
A dog has become a champion slimmer after shedding more than a third of his body weight thanks to a diet and swimming sessions.
Aged 10 and weighing 3st 6lb (21kg), Oscar's flab could hardly be said to be puppy fat - and when "walkies" became "waddles", his Wolverhampton owner knew something had to be done.
The pooch had been keen on leftovers, but he soon had the habit licked when he cut out scraps and took to dips in a pool.
The result was a streamline 2st 1lb (13kg), which may sound barking but it helped the dog to PDSA vets' Slimmer of the Year title - a real Oscar win.
Go to next video: Warning over festive treats for pets