Media player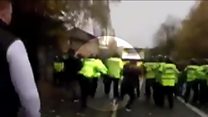 Media playback is unsupported on your device
Video
Police '"push" video at Blues Villa derby investigated
Police are investigating a video that appears to show a football fan being pushed to the floor after the derby match between Aston Villa and Birmingham City.
A police spokesman said the force had been alerted to the video and the concerns raised.
"The circumstances surrounding the incident and actions of the officers involved will be investigated," a spokesman said.
"We expect the highest standards from all our staff and anyone found to have acted inappropriately will face disciplinary action."