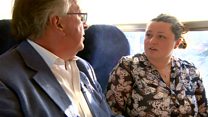 Video
Taking a week off work to talk to strangers on trains
A business consultant has taken a week off work so he can talk to strangers on trains.
Rob Ball, from Birmingham, will be spending the next few days travelling the country to encourage people to talk more on public transport, after deciding two weeks ago he needed to do more to relax.
Mr Ball said he often felt cross and by talking to people he hoped it would give him a more positive outlook.
He said: "I'm trying to create a conversation, it's going to be fascinating, it's a complete contrast to anything I've done before."
On day one he's had a mixed reaction, with one passenger saying: "I was a little bit freaked out, but it's good to talk isn't it?"
Go to next video: Would you work in a stranger's home?