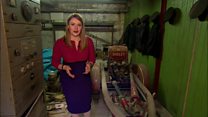 Video
Hidden Dudley fire station revealed after decades
A former fire station first used in the 1920s has been rediscovered in the basement of an old Co-op factory after being hidden for half a century.
It dates back to when the building in which it was found, in Dudley, West Midlands, was a munitions factory, with the fire station introduced as a safety precaution.
The building was then sold to Bean Cars in 1935 before being taken over, in the 40s, by a company owned by Co-Op.
The site is believed to have been last used in the 1960s and remained untouched - complete with firefighter uniforms and hose - until this year.
Go to next video: Hidden Thomas Hardy altarpiece found