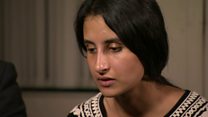 Video
Akhtar Javeed daughter: 'There is no closure with murder'
The daughter of a Birmingham businessman who was shot dead during a robbery has said she can't bear the thought of his killer getting away with it.
Lilas Javeed said her three-year-old daughter keeps asking about her grandfather, Akhtar Javeed, who was shot four times when masked gunmen burst in to a fast food business warehouse.
A jury at Birmingham Crown Court cleared two men of murder but Suraj Mistry, 26, was found guilty of manslaughter. Lemar Wali, 19, was convicted of conspiracy to rob.
A third man, Sander Van Aalten, 50, admitted conspiracy to rob before the trial.
Police are hunting a fourth man who is thought to have fled to Pakistan.