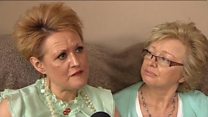 Video
Birmingham pub bombings: Call for inquests legal aid
The families of the Birmingham pub bombings victims say receiving legal aid is crucial, ahead of the resumed inquests into their deaths.
Twenty-one people died and 222 were injured when the bombs exploded at the Mulberry Bush and The Tavern in the Town in 1974.
In June, Birmingham's senior coroner ruled there was evidence that still needed to be heard and gave the go-ahead for fresh inquests, but families are still waiting to learn if they will receive public money to pursue the case.
The Home Office said it was considering a request for legal aid funding.
Louise Brookes (pictured left), who lives in Bromsgrove and whose brother died at Hillsborough, believes that inquest would not have concluded as it did without help towards the costs of legal advice for victims.
She has been discussing the plight of the pub bombings' victims with Julie Hambleton (pictured right) who lost her sister Maxine in the Birmingham attacks.