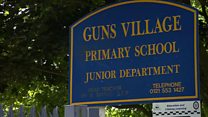 Video
Guns Village School: Parents upset at proposed name change
A Black Country school wants to remove the word guns from its title - but the plan has upset some parents.
Guns Village Primary, in West Bromwich, dates back to 1878 and the name is thought to have been linked to the manufacture of gun parts.
But a recent spike in gun crime across the Birmingham area has prompted governors to question whether guns is appropriate in the school name.
A petition against the plan to change the name has so far attracted nearly 300 signatures.
Head teacher Dawn Cooper said: "Several people over the years have expressed some surprise that a primary school has the word guns in its name.
"Obviously there is a historic link with the old area of Guns Village but we decided to ask the school and the wider community if they would like to consider a name change for the school."