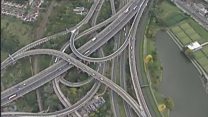 Video
Birmingham's infamous Spaghetti Junction set for six months of delays
Motorists using one of the best known motorway junctions in the UK face six months of roadworks - including total weekend closures.
Plans for the infrastructure include waterproofing the carriageway and protecting hundreds of concrete columns which support it.
Highways England project manager, Jess Kenny, said: "The road was built a considerable number of years ago and has reached the end of its life. We need to work now to ensure this part of Spaghetti Junction is protected for years to come.
"If we don't act now, water will cause more and more damage in the structure, corroding the steel reinforcement bars and causing damage to the concrete itself. Leaving it alone is not really an option - and would mean bigger and more disruptive roadworks in future."