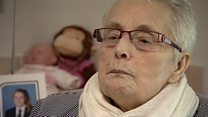 Video
Birmingham dementia patient twice survives end-of-life care plan
The family of a dementia patient who survived after being put on an end-of-life care plan twice by doctors have said they're disgusted with Sandwell Hospital.
Betty Boylan, 77, from Great Barr in Birmingham, was admitted to the hospital in August 2014 and developed pneumonia.
She was put on an end-of-life pathway, which meant active treatment was withdrawn for three days.
Her family said they insisted she was given antibiotics and she pulled through.
Mrs Boylan then suffered a major brain bleed in February and was again placed on the end-of-life pathway, which her family said was without their consent.
The Sandwell and West Birmingham Hospitals NHS Trust said the family had been kept informed of clinical decisions which were monitored as her condition changed.