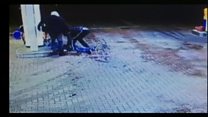 Video
Vicious attack on Birmingham man caught on CCTV
West Midlands Police is investigating an attack at a Birmingham petrol station in which a man was kicked repeatedly as he lay on the ground.
It happened at the Gulf Service Station on Bristol Road, Birmingham, at 04:20 BST on Saturday.
CCTV footage of the incident was posted on social media by Pritesh Pattni, who owns the petrol station.
"I'm horrified. We all need to help the police solve it," he said.
"It's a wider issue around society and how we care about each other, that we can kick a man on the floor."
The 25-year-old victim was treated for his injuries which aren't believed to be serious.
Two men, aged 19 and 21, have been arrested on suspicion of assault.