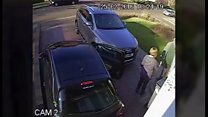 Video
Castle Bromwich carjacking: Attack after goodbye kiss
Carjackers struck in the West Midlands moments after a man kissed his wife goodbye - captured in this footage.
A 57-year-old man was standing on his driveway with his wife in Stoneymore Drive, Castle Bromwich, at about 09:00 GMT on 25 February when a white Ford Kuga pulled up.
Two armed masked men jumped out and demanded the victim hand over keys to an Audi Q7, said police.
When he refused, one of the men hit him several times with a metal bar.
The attackers managed to snatch car keys during the assault. The victim attended hospital but "did not sustain any serious injuries", said police.
There is no sound on this video